The insulator pulleys are mounted on insulators, are used for low voltage overhead transmisson line conductor stringing. Two types: For straight and corner line conductor stringing.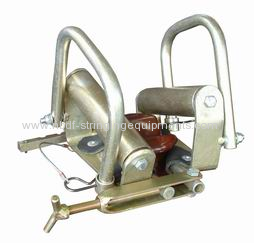 ITEM NO.: MODEL: ZH10Z
Applicable insulator dia.: Four size
Size of sheave:φ40×154mm
Work Load:2kN
Weight:4.2kg
Description: It is used for stringing on transmission lines, can be fixed on the insulator neck.
The conductor passes through the pulley. When need sagging after stringing, loosen the nut of the hook bolt slightly to make the pulley turning clockwise by 90°, the conductor will automatically fall in the insulator groove,then the conductor can be sagged and fixed
Features: 1. Steel pulley;
2. Rolling ball bearings;
3. Steel structural parts are galvanized for protection.
Item No. Model ZH10J
Applicable insulators: P-10T or pin insulators with similar neck structure, etc.
Rated load: 2kN
Dimensions: 390×173×127mm
Weight: 6.5kg
Description:
1. Used in the construction of distribution lines and corners;
2. Fastened to the neck of P-10T pin insulator;
3. When you need to fix and bind the wire tightly at the end of the wire setting, gradually loosen the fastening nut, so that the pulley gradually withdraws, and the wire automatically falls to the neck of the insulator;
4. Remove the pulley and bind the wires.
Features:
1. Aluminum alloy pulley;
2. Dust-proof rolling ball bearings;
3. Steel structural parts are galvanized for protection.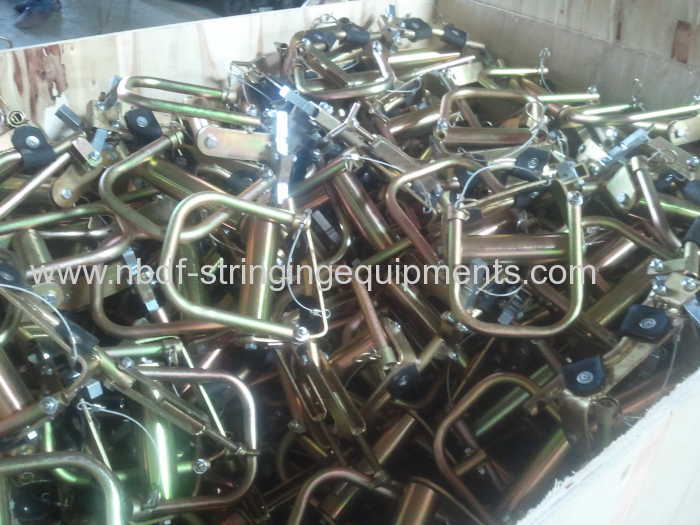 We have exported them to a few Europe countries in last three years.